The 71st Annual Yuma County Fair
April 4th - April 9th 2023
We are looking forward to our 71st Annual Yuma County Fair.  This year will bring all the excitement of the Carnival, the adrenalin of the Demolition Derby, the joy of local and guest musicians/bands and the satisfaction of all the tasteful food and drinks that you can only find at the Annual Yuma County Fair.  
Where else can you go and see Commercial Exhibits, Livestock Shows, Livestock Auction, Various Types of Crafts and Hobbies, FREE Entertainment, Strolling Acts, and a Carnival?  Only at the Yuma County Fair!  
---
We are thrilled to bring you new promotions!  Keep reading to learn more about it!  
Days and times of the 71st Annual Yuma County Fair
Tuesday, April 4th – 3:00pm OPENING Day – ONLY $2.00 for ALL Admission Tickets
Wednesday, April 5th – 12:00noon Demolition Derby Day, Derby starts at 7:00pm
Thursday, April 6th – 12:00noon – Buddy Day – Two ride for the price of one &

Thirsty Thursday – Happy Hour: 4pm – 7pm $1.00 OFF ALL BEERS **NEW**

Friday, April 7th – 12:00noon
Saturday, April 8th – 12:00noon
Sunday, April 9th – 12:00noon 
Our 2023 71st Annual Yuma County Fair entertainment schedule is now available! 
Just click the link below to download a copy.  We will have copies in our office soon.
Admission tickets on-line sale will be posted in March, 2023.  Information about the pre-sale ride tickets will be posted here as soon as we have the dates available. 
Admission
General Admission 13 and up: $7.00
Youth 6 – 12: $5.00
Children 5 and under: FREE
You can purchase your Entrance Tickets now!
2023 Yuma County Fair Premium Book 
The 71st Annual Yuma County Fair premium book is now available here or you may pick up a copy at the Yuma County Fair office.
Our Entertainment schedule will be posted here as soon as it's available.  Entertainment schedules may also be picked up at each entrance gates when attending the fair.  
Demolition Derby 
If you're interested in registering for the Demolition Derby, the registration is now available!  Deadline for the Demolition Derby registration is March 27, 2023.  Great news!  You no longer have to come into the Fair Office to register, click the links below to download the digital copy and e-mail it to marketing@yumafair.com.  
Demolition Derby Rules 2023     Demolition Derby Entry Form 2023
---
**NEW ATTRACTION**
Three Easter Selfie-Stations will be located throughout our fairgrounds.  Your mission, should you choose to accept it…
Find all three;
Take selfie or family photo at all three stations;
Post it!  A hashtag link will be available the first day of the fair!  Stay tuned.
A winner will be selected every morning, starting on Wednesday, April 5th.  Yes!  There will be a winner and a Family Fair Basket for that winner.  The winner will be announced on Facebook, Instagram and Twitter and posted here…
The Family Fair Basket will include Fair entrance tickets, carnival ride tickets, and/or coupons from our drink and food vendors.  The value of the basket will be up to $100. 
Are you excited yet?  We are!  We can't wait to see you at the 2023 Yuma County Fair. 
We are the Yuma County Fair, "County Fair With a Desert Flair"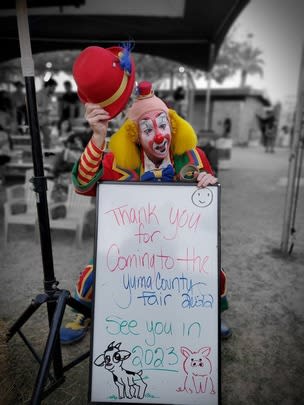 ---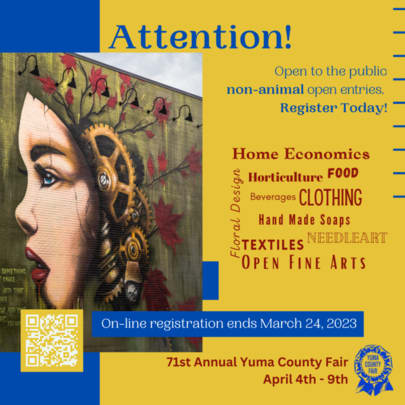 ATTNETION!  OPEN TO THE PUBLIC...
Horticulture, Floral Design, Home Economics, Clothing & Textiles, Hand Made Soaps,
Needleart, Foods, Beverages and Fina Arts
Open, non-animal entries is now available to the public. 
Please register today!  Deadline is March 24th, 2023.  Click the link below
...or scan the QR code on the flyer to the left.  
Commercial, Food Vendor and Outdoor Exhibitor information please go to Vendor Information.  Thank you in advance for your interest. 
---
Large Animal Registration is still open!  Click the link below and follow the steps: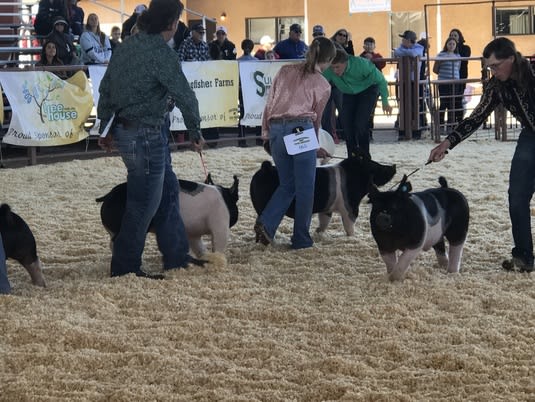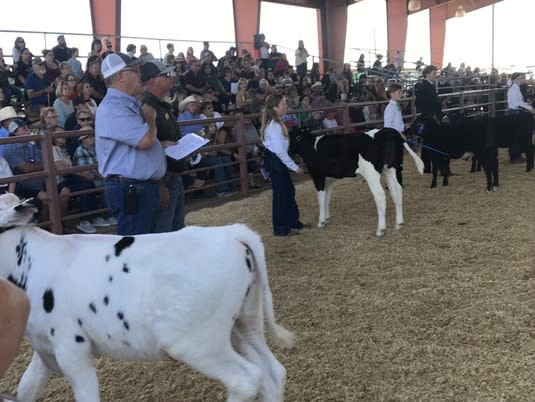 We want to wish you all a very successful 2023 Live Stock Show!
---